E-Safety
Computing in the Twenty-First Century has an all-encompassing role within the lives of children and adults alike. New technologies are enhancing communication and the sharing of information.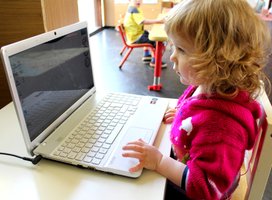 Thus, e-Safeguarding is a demonstrably necessary ethos to adopt across all practice that involves computing in one way or another. Creating a safe computing learning environment includes three main elements at our Nursery School:
- ensuring there is an appropriate range of technological tools
- instituting policies and procedures, with clear roles and responsibilities
- keeping staff and parents and carers fully informed about internet e-safeguarding and the acceptable use of the nursery school's and children's own computing equipment
Many children are very familiar with the culture of new technologies, but their perceptions of the risks may not be mature; our rules for e-safeguarding need to be explained and discussed. e-Safeguarding is a part of our daily routine since computers are used across the curriculum.
Dulwich Oaks Montessori Nursery School actively strives to be at the forefront of educational technology to ensure that the computing experiences and abilities that the children are equipped with are effective and transferable life skills. To reflect this position, we have invested heavily in computing technologies. Our developing range of resources consists of desktop computers, laptop computers and tablet computers.
Despite recognising the enormous benefits that continuous access to the internet has on children's learning, we also recognise that there are concerns regarding children having access to undesirable material. In an attempt to combat these risks, our internet service provider operates a comprehensive filtering system that restricts access to inappropriate material.
We believe that developing your child's knowledge and understanding of the safest and most responsible ways of using the Internet and electronic communications is essential for them to grow up safely in the Twenty-First Century.
Here are some useful links and resourses for parents to read with regards to E-Safety:
Here is a document with tips for e-safety for parents of pre-school children: