Dulwich Oaks Montessori was founded in 2012 by David and Julia Brows, who also own two other successful Montessori Schools - Dulwich Montessori Nursery School and Lemon Tree Montessori Nursery (Sanderstead).
Having seen the potential in the beautiful hall of St Margaret Clitherow Church, the owners modified and improved the hall and the garden to create outstanding facilities for children.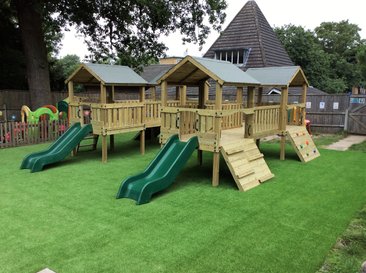 Now the garden of Dulwich Oaks Montessori is one of the biggest and best equipped Nursery gardens in London. It has a variety of climbing equipment, sand pit, vegetable pitch, bug hotel, outdoor classroom and a separate "wildlife" garden.
The learning materials at Dulwich Oaks have been designed to provide a wide variety of learning experiences geared towards the development needs of young children. Each activity involves experiencing with unique materials proven to be intensely fascinating for the young child.
When engaged in well structured tasks, our students experience inner satisfaction leaving them with a positive attitude towards everything connected with school.
The Montessori Method believes that children learn directly from their environment and other children. The teacher is there to facilitate the child's exploration and creativity. All subjects are interwoven and the child learns at their own pace. This helps each child gain independence and confidence, and be proud of their own achievement. Montessori children are usually very adaptable. They have learned to work independently and in groups.
Our Montessori environment supports a free flow of movement between the indoor and outdoor environment where, at any given time, the child has the choice to be inside or outside. Our wonderful outside environment is prepared following the same principles as the inside environment, with activities set up so as to encourage the child's independent activity and exploration.
We have also achieved Millie's Mark award which means that all our staff are trained in First Aid and have strong knowledge of Firs Aid Procedures. You can read more about this award here.